Team Leader, Software architect, developers, UX designer, UI designer. Team by Antreem
The client is a leading provider focused on Risk, Wealth & Performance Management. The task for us was to design the user experience of his core business: financial risk simulations. The client used an excel file to simulate financial risk and he would like to integrate it into a website.
First of all, we had co-working sessions with the clients to understand the actual user experience. The delivery of these sessions was a journey.
We combined all the collected knowledge of co-working using a Navigation map technique. We designed the navigation map of the as-is service. We know that the rules for designing good navigation are:
Prioritize consistency
Design clear interactions
Avoid deep navigation
Design for responsive compatibility
We decided to focus on clear interaction e responsive compatibility to help the user read the huge amount of data. We also introduce graphs and tables to simplify user reading.
In this phase, we suggested split the website for each user in order to clarify the core functionalities: a website for the operators, a website for banks and a website for the client himself that upload risk algorithms every year.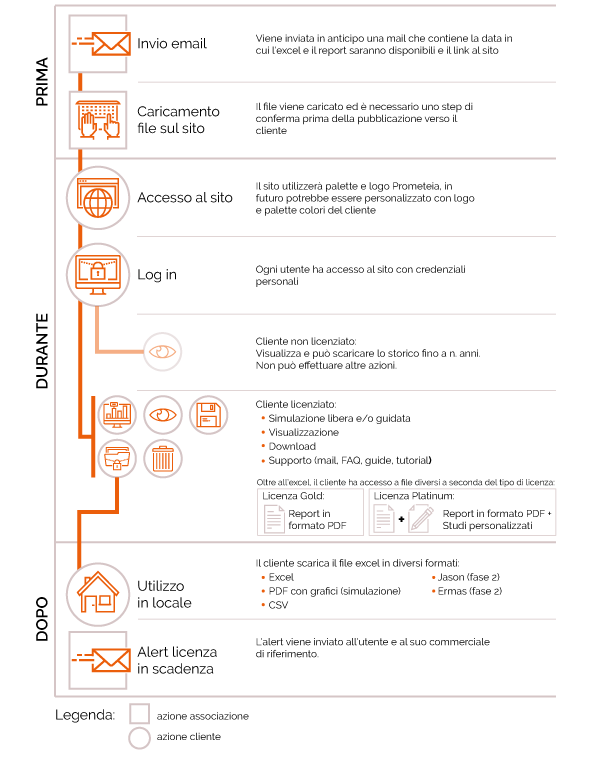 After learning about user scenarios and designing navigation flows, we built the base of our UX strategy. Then, we were able to proceed with Low-Fidelity (Lo-Fi) flow development.
Lo-Fi flows are created to understand the correct sequence of the main user scenarios, which have been identified in the previous steps. They help to design and adapt actions that users have to make in order to achieve their goals.
Next, we proceeded to the development of a High-Fidelity (Hi-Fi) wireframe. Our task was to visualize the screen structure and content, considering the logic of the service and all of the previously generated UX insights.
Cause to time constraints, we decided to move up the functional design system before mockup. So developers were able to start to develop.
With the UX deliverables in mind, our UI designers composed a mood board for each concept we proposed. When the client chose the concept we applied the visual mood in all the screen through mockup designed in Sketch.
STYLE GUIDE AND USER MANUAL
Finally, we designed a style guide report and user manual for the client. Style Guide helps developers to keep consistency along with the project while user manual will be given to users to understand the website and its functionalities.